Comparision of Ultra, MS909, MS919, Thinktool Master
Thursday, January 27, 2022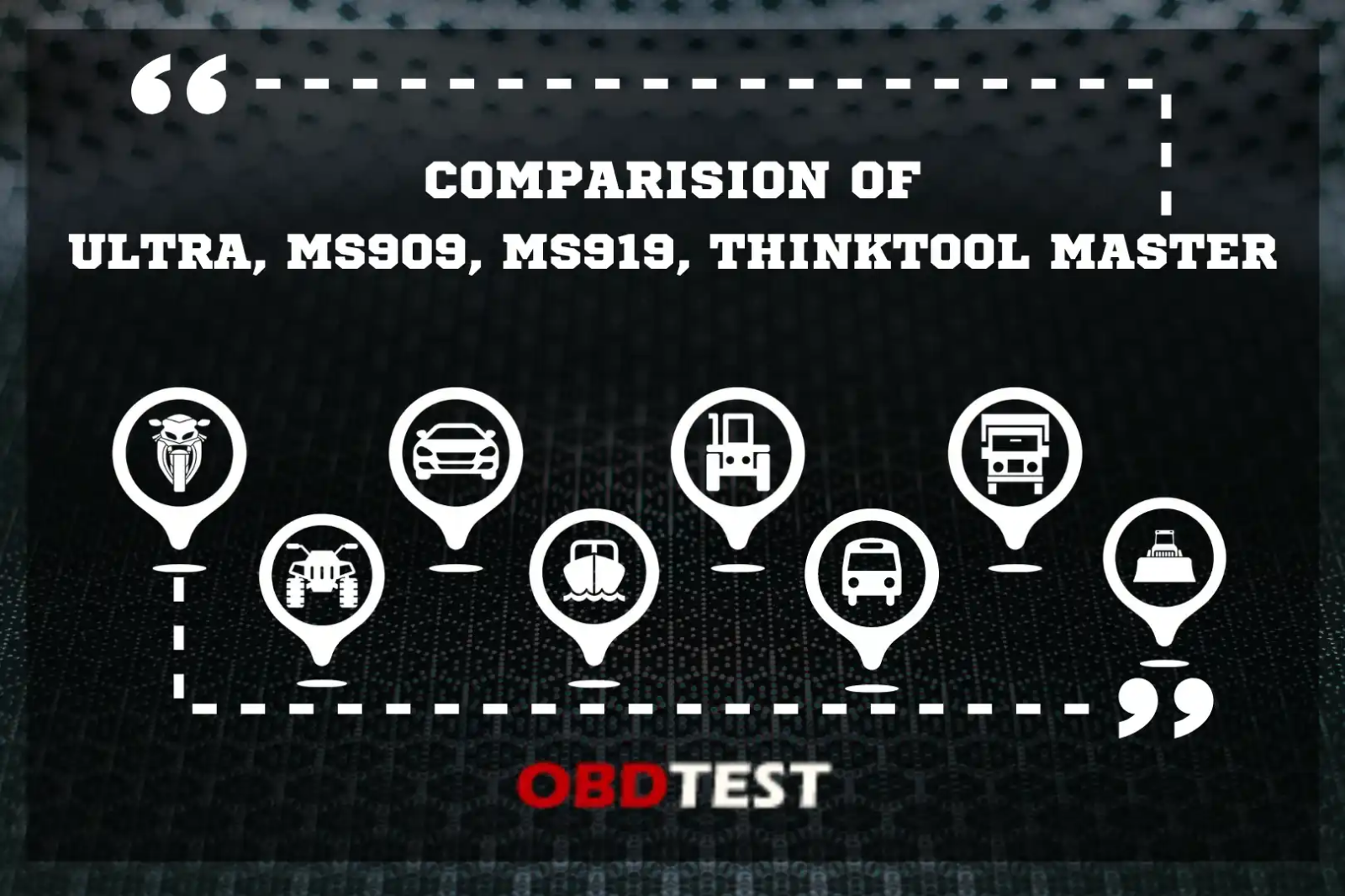 Comparision of Ultra, MS909, MS919, Thinktool Master
Comparison of Autel Maxisys 909, 919 and Ultra - Launch X-431 Pad V, Pad VII - Thinktool Master and Master X Diagnostic
In line with your wishes, we compared these Autel, Launch and Thinktool branded devices that we are the distributor of.
Autel has achieved success in the diagnostic sector with Maxisys Ultra, 919 and 909 devices, Launch and thinkcar have also achieved success in high-level diagnostic processes.We compared the Launch X-431 Pad V and Pad VII and Thinktool Master and Master X.
Passenger vehicles or light commercial vehicles, sometimes heavy vehicles;
These devices, which work with domestic brands, Asian, European, American brands, vehicles produced after 1996, are different from each other in various aspects.
Fault code reading deletion, oil reset, brake pad reset, steering angle sensor reset, battery adaptation, throttle adaptation, transmission adaptation, dpf regeneration, injector coding, tpms reset, adblue reset, egr adaptation, seat calibration all work in a basic way.
Apart from their features such as fault detection, coding, programming, they all have different features.
If we want to look at the hardware of the devices ; Autel 909 and 919 have 9.7 inch, Ultra 12.9 inch, LaunchPad V, Thinktool Master and Master X 10 inch, Pad VII 13.3 inch tablet.
All of them have android system, Autel and Launch have Octa-Core processor but have Thinktool has Quad-Core processor.
The battery capacities of the Autel 909 and 919 are 15000 mAh, the Ultra's battery capacity 18000 mAh, the Pad V has 9360 mAh battery capacity , the Pad VII has 19000 mAh battery capacity , and the Thinktool has 6000 mAh battery capacity.
There is a Maxiflash VCI Vehicle connection on 909, There is a Maxiflash VCMI vehicle connection on 919 and Ultra, Smart vehicle connection on Pad V.
Box 3.0 being done via Smart Link C in Pad VII and Thinktool Master X, Thinkdiag in Thinktool Master. Except from Thinktool Master, also another 6 devices support J2534, Doip and RP1210/D-PDU protocols.
All of the devices have automatic vehicle recognition function. Different from the other brands, Autel also has a malfunction analysis and malfunction code fixing guiding function , also there is a technical service bulletins that can be used in specific cars and a licence plate reader function .
And it does the operation of resetting diesel emissions.
While active testing can be done in Autel 909, 919, Ultra and Thinktool Master and Master X, this function is not in Launch Pad V and Pad VII.
Different from them, Launch has a remote diagnosis functions.
Adas, Videoscope, and battery test functions are optional in thses 7 tools , while you can use the oscilloscope in the 919 and Ultra, this function is optional in the Launch and Thinktool, but this function is not on the 909.
Similarly , You can use the multimeter in the 919 and Ultra, this function is optional inthe Launch, but this function is not available in the Thinktool and Autel 909.
Can Bus control function and waveform dynamo are only used in Autel 919 and Ultra.
Thermal imager, work light, docking station, tpms functions are optionally used in Thinktool Master and Master X, only the charge station is standard equipment in Ultra and tpms function is optionally used in Launch, not used in other models.
Printer support is used in Thinktool Master X and it is optional in Master.

In short, you can find different tablets according to the operations you want to do.